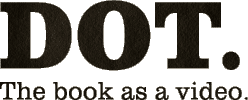 "DOT: The book as a video" is a music-video for the song "dot", as released by Michael Fakesch and published 2007 on his album "dos". The video is a sequence of digitally reproduced letterpress prints, produced in the typography workshop of the University of Arts in Braunschweig, Germany. The video consists of approx. 300 different screens, 300 different pages were set in lead type and printed on a 60-year-old "Korrex" proof press. The pages were collected and bound to three (almost) identical books. The project's subheading refers to this coexistence of print and digital video. The DOT video is an animated book, while turning the pages of the book is the corresponding action to watching the video.
Photos from the printing sessions can be found online at flickr; a making-of video is linked below. The actual video will be published on a DVD called "vidos" which will feature an array of interesting videos. It will be released later this year. "Vidos" was curated by Cornelia and Holger Lund, curators of the media art space fluctuating images in Stuttgart, Germany.
A high resolution version of the video is about to be produced, and will be published together with the books later this year, in a slipcase at the edition of three.
· Read more about the book here
· Read more about the concept of this project here
· Find out about the people involved
· Watch a short making of the DOT