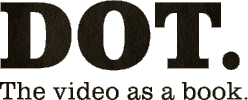 "DOT: The video as a book" is a letterpress printed artist book, containing about 300 pages that were also used for a music video for Michael Fakesch's song "dot", released on his album "dos". Three copies of the book were created, containing the original prints used to produce the video. These books comprise every single frame as a lead type printed paper copy: every picture shown in the video has its materialized analogue twin. The book was printed in different shades of black and silver on 100 g/m2 feltgrained paper. The book is about 28 cm wide, 21.7 cm high and 5 cm thick. A slipcase will be produced later this year, containing the book and a high resolution DVD of the video.
· Read more about the video here.
· Read more about the concept of this project here.
· Find out about the people involved
· Watch a short making of the DOT

These images show some steps in the book's production:
And this is what the book looks like when finished.
go back to starting page